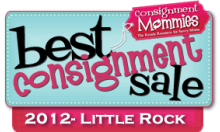 Sun, March 9 - Sat, March 15
Little Rock Expo Center, 612 North J.P. Wright Loop Rd., Jacksonville, AR 72076: The Little Rock Expo Center is conveniently located just off Hwy 67/167 in Jacksonville. Heading north, it's just past North Little Rock on the way to Cabot and Searcy.

Rhea Lana's of Greater Little Rock
Sunday, March 9 – Saturday, March 15 

      Private Pre-Sale for Consignors, Volunteers, Moms-To-Be, and Guests on Saturday, March 8  
We are accepting Consignment Items Into the Database Through This Thursday, March 6 at Noon.  Consignor Drop Off is this week: Tuesday (5-9pm); Wednesday (9am-9pm) and Thursday (9am-6pm)
Thank you, Central Arkansas, for embracing the concept of families helping families and making Rhea Lana's Children's Consignment Events one of the top Child Service Related Franchise Businesses in the nation, as determined by Franchise Business Review.  This past November, Rhea Lana Riner, founder and CEO, received a Stevie Award for Women in Business which honor achievements in the workplace by women executives and entrepreneurs around the world.  We love serving and partnering with moms to benefit their families!

                We are beyond thrilled to be at a new HUGE location this season with 100,000 sq ft, plenty of well lit parking and conveniently located just off the interstate:   The Little Rock Expo Center! 
*New this season, extended hours and a new Pick Up day (Click here to view the full event schedule.)
For this sale, we will have limits for these items with each consignor number:
Infant(Newborn to 9 Months) - 25 Hanging Items
Maternity - 15 Items
Shoes - 12 pairs 
Each Consignor may bring 100 total items with each Consignor Number.  You may register for several Consignor Numbers if you'd like to bring more than 100 items. 

****************************** 
Our Fall 2013 Event had 700+ Consignors selling 70,000 children's and maternity items at bargain prices.  With our new larger location, we're excited to be able to offer this opportunity to hundreds more families.    I hope you'll join us as a Consignor, Volunteer, or Shopper for our event.  You'll be amazed at this unbelievable consignment experience!
PARKING AND ADMISSION ARE FREE!
What is Rhea Lana's?
Our desire is to add value to the lives of families by providing Upscale Children's Consignment Events in a highly-organized, friendly environment. We hold two (1 week in Fall and Spring) consignment sale events in Central Arkansas each year (plus, we also have events in Conway and in West Little Rock) featuring HIGH QUALITY children's clothes, shoes, costumes, toys, books, DVDs, baby equipment, gently-used maternity clothes, and much much more! Check out this video to see what Rhea Lana's is all about. 
Consignors:
*Sign up here if it is your first time to sell items at Rhea Lana's of Greater Little Rock.
*Take prepared items to event location during 'Drop-Off Days'
*Make 70% on sold items & up to 80% with referrals (see Incentives)
*Watch personal sales online or by mobile phone during event week - LIVE UPDATES!
*Collect consignor check, PRINTED SALES REPORT,  and neatly sorted unsold items at end of week on
'Pick Up Day'
*May choose to leave unsold items and we will donate them to a variety of non-profit organizations who give the items directly to families in need.
*All items can GUARANTEED against loss if they meet the check-in guidelines.

Oh, and the best part?
Consignors, Volunteers, and Moms-To-Be (by birth or adoption) get to shop before we open to the public at our Private Pre-Sale Event!
VIP- We have an excellent VIP option for parents who have high-quality and boutique items, but do not have time to prepare them to sell.  We will come pick your items up from your home and hang, tag, price and deliver your items to the sale for you!  You still receive 40%, instead of 70%, get to shop before we open to the public, and we do all the work!!!
In the meantime,
1) Join our mailing list.
You will be kept up to date on important consigning deadlines, preparation, & drop-off information, volunteer opportunities, and incentives. Don't worry, we keep our emails limited and never share your addresses with others.
2) Start cleaning out your closets!
Create a "Spring Consignment" tub with your children's BEST Spring/Summer clothing that they no longer wear. Don't forget short-sleeve shirt & short sets, swimsuits, sundresses, Easter outfits, pajamas, and play clothes in like-new condition.  Shoppers love to buy high quality name brand and boutique items for less at our events. Nursery furniture, changing tables, gliders/rockers, bunk beds, and other children's furniture are among our most popular items. We also sell 95% of baby equipment and toys such as Jumparoos, high chairs, car seats, strollers, Bumbos, pack n plays, play kitchens, tool benches, and outdoor playsets!
3) Become a Consignor
Start preparing and entering your items into our online system. Be sure to check out Merchandise Preparation for guidelines.

4) Become a Volunteer
Volunteering is a fun way to earn the ability to be among the first shoppers, get out of the house, and have fun with other moms. The more hours you volunteer to work during or before the event, the earlier you get to shop at the Private Pre-Sale Event! Click on the link above to sign up for a shift online.  

5) Join our Facebook Page
Remain up to date on current announcements, postings and contests.  

6) Consider advertising with us!  For sponsorship information contact beth@rhealana.com.  To be a part of our Customer Appreciation Day as a vendor, or Goody Bags delivered to our shoppers contact kimburbank@rhealana.com 
Our Greater Little Rock Sale is proud to serve the families of Little Rock, North Little Rock and beyond. Consignors and shoppers from Texas, Mississippi, Tennessee, Oklahoma and Missouri attend our regional event. Our mission is to add value to the lives of families by providing an upscale consignment experience. At Rhea Lana's, we've been in the business of CLOTHING AND CONNECTING FAMILIES since 1997!
See you soon for the best bargain shopping in Central Arkansas!  At Rhea Lana's, we are moms who love helping moms.  For great consigning tips, be sure to visit Rhea Lana's Blog! and follow me on Twitter @rhealana and Instagram at rhealanas for a fun behind the scenes look at our business!  If you have any questions, contact@rhealana.com or call  501-499-0009, I'm happy to help!
Rhea Lana Riner
rhealana@rhealana.com
501-499-0009